Hello Nerdship! I hope you're all having a wonderful week so far. Show of hands, how many of you are a fan of The Beatles? *raises both hands* ME TOO! When I heard about the Grammy special dedicated to The Beatles first visit to America, I jumped on the chance to review it for this wonderful blog. What made this Grammy salute even more special is the fact that the show was broadcast exactly 50 years to the day, date and time of the original event. That totally just blows my mind! I grew up listening to The Beatles. I remember my dad sitting me down in front of the television to watch "Help!" and "A Hard Day's Night." The thing that cemented me into The Beatles fandom was The Beatles Anthology. Ever since then, I've been hooked.
Now, that being said, this review is being written by someone who is hard pressed to find covers of Beatles songs that are good. There are some GREAT ones out there (I mean Eddie Vedder, hello?) but there are also some TERRIBLE covers. I did start watching this special with an open mind so I didn't hate everything right from the beginning. I put aside my pickiness in order to objectively review each artist. I know there are going to be some lovely readers who totally disagree with me and that's fine. I don't expect every person to agree with me because that would be weird and kinda boring. So, here we go…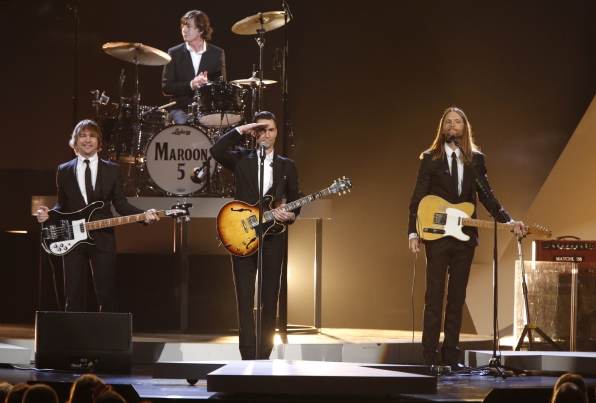 The first performer was Maroon 5. They did a bit of "All My Loving" and I loved it. They had on suits that were very Beatles-esque and the stage was set up in the same fashion as when The Beatles performed on The Ed Sullivan Show. They went on to perform "Ticket To Ride" and it was yet another wonderful performance. I was very pleased that they stuck to the roots of how The Beatles sound and even how they dressed back in their early days. I kind of wish they had bowed at the end of their performance like The Beatles did when they would end a performance but that's the only gripe (and not even a gripe) about Maroon 5's performance.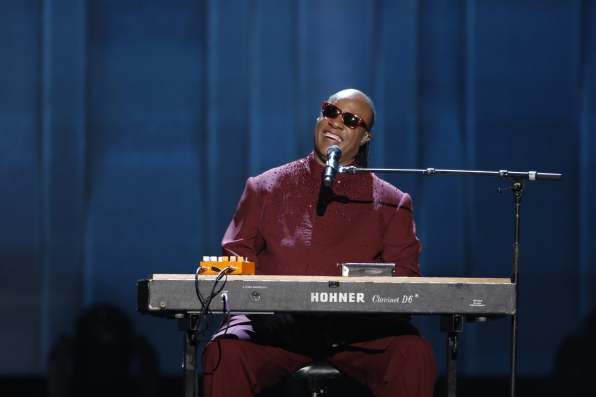 The second performance to grace the stage was none other than the incomparable Stevie Wonder. He sang a cover of "We Can Work It Out" and he made it his own. He even busted out a harmonica and the entire thing was amazing. I mean, it's Stevie Wonder for crying out loud. He doesn't give bad performances. During his performance, the camera panned around the audience a bit and they showed Dave Grohl holding his daughter in his lap and she was dancing around. SO ADORABLE! Later on in the show, Dave mentions that The Beatles are his favorite band and his daughters favorite band, which is even more adorable because she can't be older than five or six!
After a commercial break, I see Johnny Depp pop on screen. After my heart restarted, I realized that he was introducing the next performers. Joe Walsh, Jeff Lynne, & Dhani Harrison. They performed the beautiful song "Something" that was written by the one and only George Harrison. Jeff Lynne did most of the singing but Dhani Harrison did join. I wish Dhani had sang the entire thing but alas, I didn't get my wish. However, seeing him perform a song written by his dad was a beautiful moment and it was performed beautifully.
Eric Idle was up next and he made a mention of The Rutles! I had TOTALLY forgotten about them! I love The Rutles! If you have no idea what I'm talking about, Google them! They are hilarious. They are a parody band of The Beatles and their members are Neil Innes, Eric Idle, Ricky Fataar, and John Halsey. I'm a huge fan of Eric Idle so I was super excited to see him there. After that, they cut to a little bit about John Lennon. When he was born, where he grew up, etc. They did that with each band member throughout the show and it was nice.
Another thing they showed throughout was Sir Paul McCartney and Ringo Starr being interviewed by David Letterman while standing in The Ed Sullivan Theater. They covered topics from how they first met Ed Sullivan to fan girls who hid out in the air ducts and tried to sneak in to see The Beatles. Those girls probably just ended up being put back outside. If girls did that now, they'd end up in jail! My, how times have changed!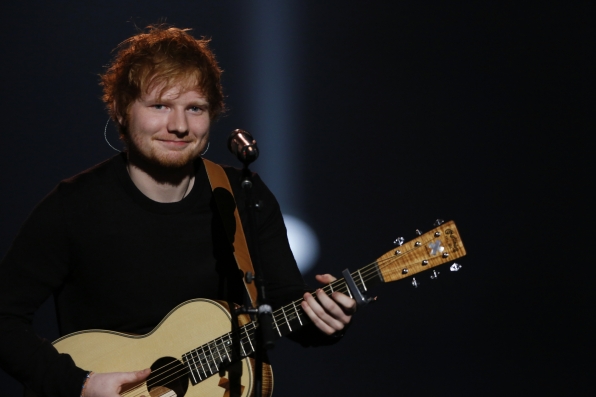 The next performer was Ed Sheeran. I had heard of him but I had never heard him sing and man, that boy can sing. However, his cover of "In My Life" was just terrible. There are many songs by The Beatles that can be sung with an acoustic guitar and that's it but "In My Life" is not one of them. It was flat and was kind of boring and just was not the same without the piano solo.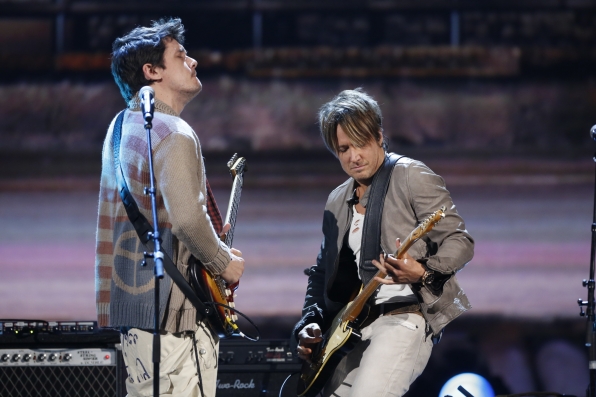 Next was a duet by Keith Urban and John Mayer. They did the song, "Don't Let Me Down" and did a pretty good job. I'm not a huge fan of either but my goodness, those boys can play their guitars! Can I say though that I really hate watching John Mayer perform? It's like Joe Cocker. Love listening to him sing but he is not fun to watch perform. It's passion for music coming through but doesn't change the fact that it's awkward. In the end, Keith Urban and John Mayer did a good job, although it wasn't the best performance of the night.
Next was Katy Perry and she did something that I HATE and that is changing the lyrics to songs that are not hers to change. She did the song, "Yesterday" and changed all the "shes" and "hers" to "hes" and "his" and that is literally one of my biggest pet peeves. However, she can really sing and she did belt out that song and if she hadn't changed the lyrics, it would have been a fantastic performance. However, that might just be me and everyone else thought it was fantastic.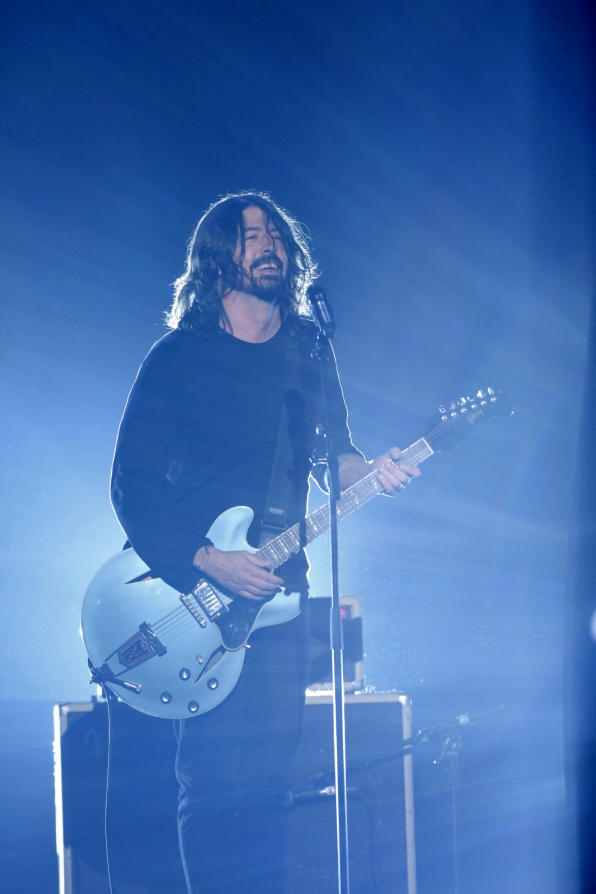 One of my most favorite songs by The Beatles was covered by Imagine Dragons and they totally nailed it. They did, "Revolution" and it was awesome. There isn't much more I can say about it. They did a wonderful job! The same goes for Dave Grohl and Jeff Lynne totally rocking the house with "Hey Bulldog!" Dave Grohl is an amazing musician and I loved seeing him perform a Beatles song that wasn't one of their huge hits. I'd go as far as saying that, unless you're a huge fan of The Beatles, you probably have never even heard that song before last night. That's why I loved that song being performed. Introducing some of their other really good songs to those who wouldn't have heard it otherwise. More fans of The Beatles is always a great thing!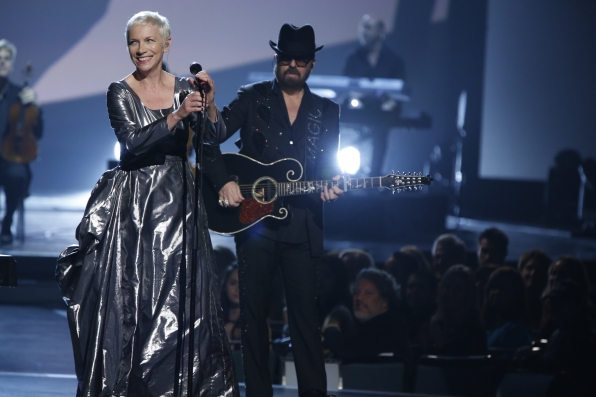 The Eurythmics. Yes. They were there and they performed together! They did, "The Fool On The Hill" and it was a little different but I loved it. Annie Lennox wore what looked like a silver dress that kind of looked like one of those blankets they put on people when they are suffering from frostbite and are trying to warm them up because they reflect back body heat. However, that dress oddly did not distract from the performance. It was a wonderful performance and it made me want to listen to some 80's music.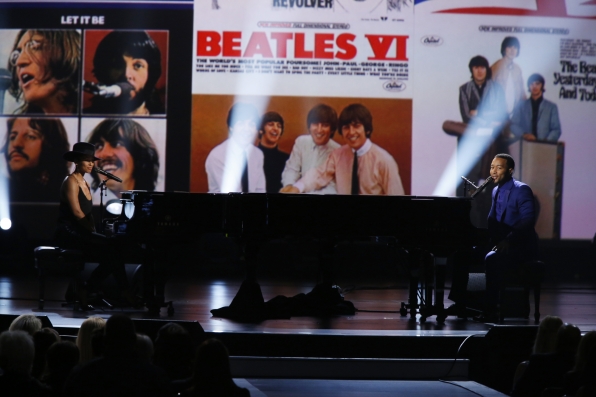 Up next was a cover of "Let It Be" by Alicia Keys and John Legend. Both are wonderful singers but one of them tends to oversing and that would be Alicia Keys. That's fine if she wants to do that to her songs but I hate when people oversing a Beatles song. Another pet peeve I suppose. Despite that, the performance was beautiful. Double piano playing was a great choice and that song is one of those that can be screwed up if not done right and they did alright.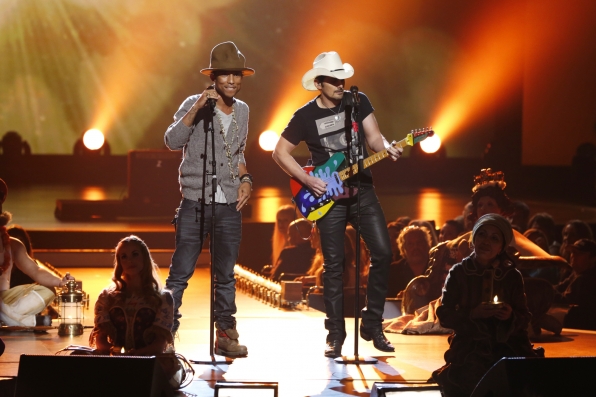 After Keys and Legend, Smokey the Bear and Brad Paisley took the stage. Oops! I mean Pharrell Williams and Brad Paisley. Okay, let's stop here and talk about Pharrell's hat. WHAT IS WITH THAT HAT?! Why does he feel the need to wear that hat? If I hadn't written down what song they sang, I wouldn't have known because I was distracted by that freaking hat. They did a cover of, "Here Comes the Sun" and that's just one of those songs by The Beatles that I don't really dig on much. It's not a bad song, I just prefer most of their other songs to that one. While they sang, Cirque du Soleil was performing. Hanging from the ceiling and flipping all around. It was a lot to take in because…..that damn hat. I just can't get past it. Okay, I'm kidding. The hat is dumb but I honestly tried not to pay attention to the Cirque du Soleil performers because I have an insane fear of heights and just watching them made me nervous.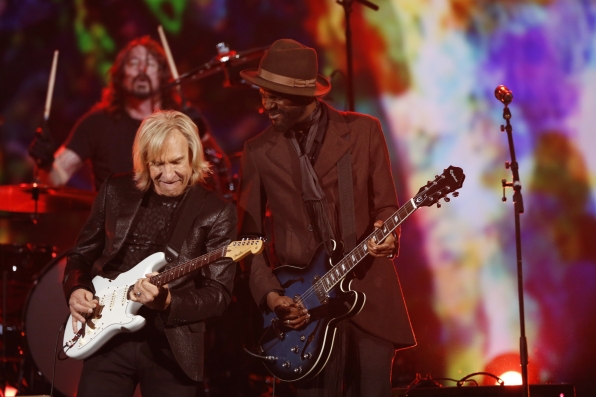 Following that interesting performance was Gary Clark Jr., Joe Walsh, and Dave Grohl. They performed, "While My Guitar Gently Weeps" and it was phenomenal. I had never heard of Gary Clark Jr. before this but I loved the kind of smoky soul sound his voice added to the song. I really love watching Dave Grohl play drums and the guitar solos were beautiful to watch and listen to. On the screens in the background, they had a real psychedelic, tie-dye thing going on. It was trippy man! The performance was awesome and it felt a little like a jam session there towards the end, which was awesome.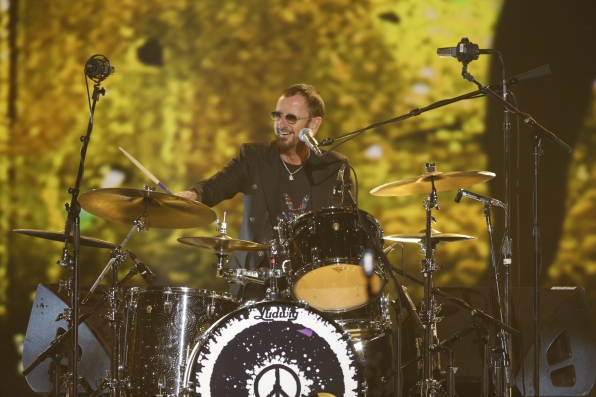 The next presenter was THE DUDE. Jeff Bridges. He talked about growing up with his brother Beau Bridges and watching The Beatles on Ed Sullivan and then he introduced the one and only Ringo Starr! He performed the songs, "Matchbox," "Boys," and "Yellow Submarine" and he bopped around like he does, which is wonderful. He played drums while singing, "Boys" and it's always great to see him behind a set of drums. When he was singing, "Yellow Submarine," they cut to a shot of Anna Kendrick and she was totally fangirling, which was awesome. I'm right there with you! The audience really got into it but honestly, you can't watch Ringo perform and not bop around with him. It's impossible. I'd like to see you try it! Although, I must say that Yoko really needed to simmer down because I was worried she was going to break a hip.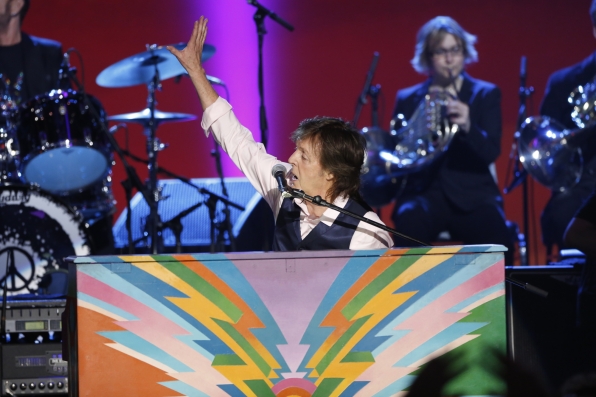 Sean Penn followed Bridges as the next presenter and I was not happy because I am mad at him. I got my hopes up that he was back with Madonna because her son posted a photo of himself with Sean Penn and now Sean is dating Charlize Theron. Now, I'm not sure if he just couldn't see the teleprompter or if he was drunk or what, but he seemed to have a bit of trouble with the speech he gave before Paul McCartney started playing. Either way, he'll always be Spicoli. Now, Paul performed, "Birthday," "Get Back," "I Saw Her Standing There." Every time I hear the song "Get Back," I always picture Billy Preston at the keyboards during The Beatles infamous rooftop concert. Next up was "Sgt. Pepper's Lonely Hearts Club Band" which, of course, transitioned into "With A Little Help From My Friends" and the introduction of Billy Shears!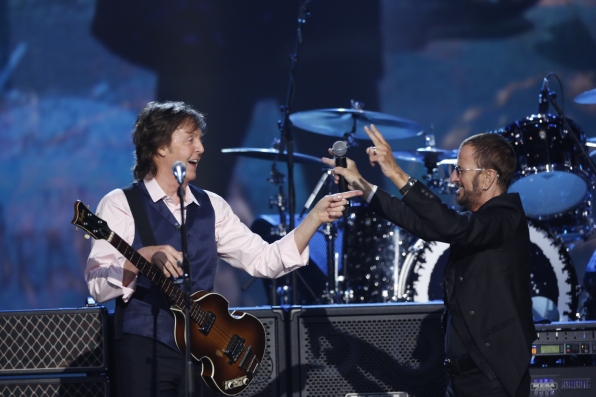 That, of course, is Ringo Starr and he bounced on stage with more energy than I currently have and he starts singing. It was awesome to see those two on stage together. It was the first time they had performed together since celebrating Ringo's 70th birthday in 2010! I wish they would get together and crank out some new music. I really doubt that'll ever happen but a girl can dream and while a girl is dreaming, she can watch Paul and Ringo perform "Hey Jude" with all of the musicians from the night joining in on the na-na-na-na's.
It was nice to see so many friends and family members of The Beatles members, living and dead, in the audience. Although, there was a noticeable (but not surprising) void in the audience. Julian Lennon didn't make an appearance. I'm not going to make any comments on that because I made someone mad at me once for my opinion and I don't want to make any awesome members of the Nerdship mad. I will say that I would have made a large bet that Julian Lennon wouldn't be in the audience.
I also can't forget to mention Peter Frampton. I was so excited to see him there and playing the guitar. I was disappointed because he didn't sing once!
Overall, it was a wonderful two and half hours of music and I am very glad that I recorded it on my DVR because it'll be fun to go back and watch. I will be skipping over a few performances of course. I'm not sure if the performances will be available for purchase on iTunes but I am really hoping that they are because that would make this Beatles nerd VERY happy.
The images of The Beatles: The Night That Changed America- A GRAMMY® Salute have been borrowed by their original location on CBS's website. We do not own nor claim to own any of these images or the rights thereof. For the original post, including these select images follow the following URL: http://www.cbs.com/shows/the-night-that-changed-america/