The Mister asked me if I wanted to go to the movies with him the other day, and I said yes. (This is a biggish deal because I definitely don't have the attention span or sensory energy for movies 90% of the time.) After doing a bit of Rotten Tomatoes and IMDb research, we decided on a late showing of Obvious Child.
Obvious Child (directed by Gillian Robespierre) centers around the day-to-day existence and misadventures of Donna Stern (played by Jenny Slate), a New York comedienne. Rather than the typical (read: "trite and contrived") rom-com devices, Obvious Child delves into meatier, more realistic territory with believable characters experiencing the types of crises one might actually encounter in their late 20's and early 30's (failure to feel like a real "adult"/ parental approval, getting dumped, losing one's job, accidental pregnancy, etc). Donna's abrasive, reality-infused approach to both her life and her comedy make for a hilarious and heart-wrenching story.
Questions you probably won't have but I feel like answering:
1. Will I cry?  Probably not. You'll laugh, you'll squirm, you might tear up a little, but we're not talking a big ol' cryfest or anything.
2. Is it okay for the kiddos?  Again, probably not. Lots of cussing, drinking, and sexy talk.
3. Wait, this sounds like Juno.    Au contraire, mon frere. Similar themes, but less hipster music and nobody has a baby at the end.
4. Wait again, what?   Yeah, an abortion. If that's a sticky topic for you, you might wanna opt out.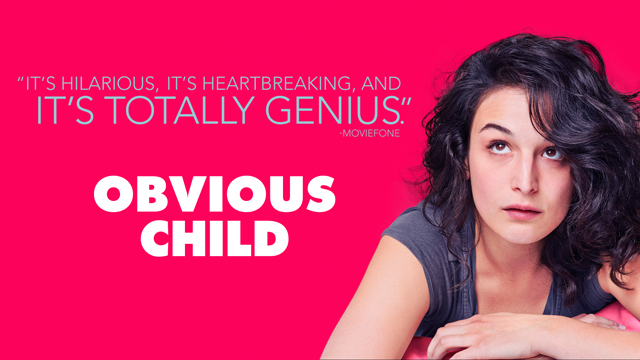 All in all, the Mister and I really enjoyed this movie, and I think you will too. It was released in late June, so it should be in theaters a bit longer (Nerdship in bigger cities will likely have an easier time catching this one. In my home base of OKC, there's one showing/day on one screen at a megaplex that is surprisingly good about showing indie-type movies).  So far, it's been selected for Sundance and nominated for several awards. Plus, Jenny Slate is a refreshing newcomer to the rom-com scene.
Have you watched Obvious Child yet? If so we'd love to know your thoughts on it. Go ahead and leave a comment below and let us know!