Halloween is tomorrow! Do you have your costume? I know I don't… yet. I've had a ridiculously crazy month and I kept procrastinating on my costume so now here we sit, October 30th, and I have no costume. What to do? What to do? Well for starters, Nerdship, let's calm down and not panic. If you live in any large town or are in proximity to any major supermarket you could probably just swing by and pick up run-of-the-mill costume that costs way too much for the quality. You don't want those costumes anyways. You are awesome and deserve a costume that is as awesome and as nerdy as you are.
The true question is are you ready to get your All Hallow's Eve on? I know I am so let's do this!
Characters from TV
Walter White | Breaking Bad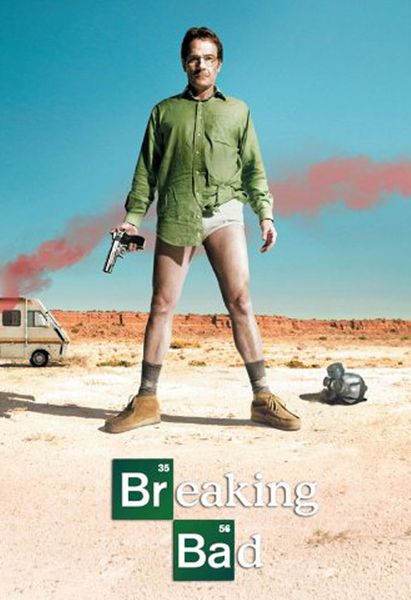 You don't have to shave your head to be the embodiment of this meth-wielding baddy. Remember when Breaking Bad began. Mr. White was a simple man and lived by simple means.
Costume Version #1 (Mr. No-Pants): Long-sleeved, green dress shirt, skin colored tights (because let's face it, you REALLY don't want to be partying in your underwear… unless you do, and then that's a totally different kind of party), good ole' fashioned tighty whities, brown argyle socks, and light brown shoes. Oh and glasses. If you're in a pinch, grab a wire coat hanger and some pliers and make a pair yourself.
Costume Version #2: This is going to be easy if you live near any kind of industrial supply store or safety store. Blue latex gloves, white face mask, goggles, and a yellow HAZMAT suit. You'll look the part. If you want to be extra awesome, pick up some blue pop-rocks or some blue rock candy and you'll be set.
River Song | Doctor Who
Seriously, who doesn't love River Song. She's the Doctor's wife for crying out loud. She's boisterous, brilliant and completely beautiful. She's the only person who even knows the good doctor's name. How awesome is that? The best part about going as River as Halloween si that you can pick an outfit that suits you best and use what you've got lying around your closet floor.
Costume Version #1 (River circa 2013): White button-up dress shirt, jean jacket, jeans, large brown belt, and boots. If you happen to have a gun holster you're one step ahead of the game.
Costume Version #2 (Winter River): White pea coat, wide black belt, brown pants,  and boots. Bonus points for a futuristic prop gun. River's wardrobe is elegant and at the same time super classy. Keep it comfortable because you never know when you'll be stuck in a fight with Daleks or the Silence.
Rick | The Walking Dead
We all know that Rick is a very complicated man who's had to go through a whole bunch of crap since waking up from a coma. I mean seriously, your best friend starts shacking up with your wife following you getting shot and zombies take over the world. You manage to find your way back to them, your best friend has MASSIVE control and paranoia issues, your party is on the run, your kid gets shot, you knock your wife up, you kill your best friend, your party is on the run again, you break into a jail, your wife gives birth right in the middle of a zombie outbreak in the jail, she dies in child-birth, your son (who's absolutely insane and no one likes him – and should have died in the first season, CARL!) shoots her without a second thought, and then you see her 'ghostly' presence haunting you around the cell block. It gets better from there… but we're talking about costumes and not Rick Grimes' post-zombie world history.
Costume – Rick Grimes, Walker Slayer and Gardener: Keep in mind that in a post-zombie world, laundry mats don't exist and blood is a pain in the neck to get out of that nice police uniform. Khaki, 'western style' button up shirt (made super dirty and worn down – try using the tea dying method and cocoa powder), dark blue or black jeans, boots, and a machete. Add some fake blood for a fresh, walker-slaying effect.
Sheldon Cooper | The Big Bang Theory
All hail the Sheldon! Whether you're Team Sheldon or Team Leonard, The Big Bang Theory is an excellent TV show and it's one that everyone can relate to. I mean, am I right or am I right?
The embodiment of Sheldon Cooper: Any short-sleeved t-shirt with a major superhero's logo on it (Batman, Green Lantern, Iron Man, The Flash, Captain America, etc),  a long-sleeved t-shirt that's either solid or striped in bright colors, and jeans. Bonus points if you bring a whiteboard with some random equations on it and tell everyone how you accidentally discovered a brand new element.
Be sure to brush up on your Klingon and carry a little Moleskin that is filled with a few pages of people who Sheldon hates… like Wil Wheaton. Extra-super bonus points if you can interject Spock quotes into 75% of your conversations.
Kate Beckett | Castle
Sexy, strong-willed, and knows how to shoot a gun. Oh, and she has Richard Castle's heart… mmmmmmm Nathan Fillion…
Beckett Costume #1: Business Suit and a spunky attitude. Pick up a fake badge from your local dollar store and be sure to not be afraid to speak your mind.
Beckett Costume #2: Jeans, a nice shirt, badge, and great shoes. If there's one thing we know about Beckett it's that she loves shoes.
Characters from Movies
Shaun | Shaun of the Dead
It's Halloween so there are a plethora of fake blood and zombies running about, what better costume than Shaun from SotD! Bonus points if you can find a Cricket bat.
Shaun's threads: White button-up dress shirt (short-sleeved), red tie, red ink pen, name tag, black slacks, fake blood, and a will to live and drink more beer, save Liz, and DJ on the weekends.
SofD Challenge: See how many of your friends say "You've got RED on you." If it's more than 5, congratulations! You surround yourself with N&N worthy friends.
Mathilda | Leon (The Professional)
What's scarier than a child who wants to kill people? Answer: a teletubby watch party, but hopefully those don't exist anymore. Anyways, Mathilda is an awesome and totally memorable character that's fairly simple costume wise.
Mathilda's Look: Black shirt w/ white stripes, a white bolero, shorts, and black boots. Don't forget the black choker and stuffed bunny rabbit.
For the full effect, cuss a lot and ask everyone if they want to play charades.
Audrey Hepburn | Breakfast at Tiffany's
This is a classic dame, but a gorgeous dame nevertheless. Halloween doesn't have to be about the scary, scary it's about having the ability to be someone else for one day. Why not go for the classics?
The look: Black floor-length dress, a chunky and dangly necklace, and shiny earrings. Well, lots of shiny jewelry in general… including a tiara. Good news is if you stop at the dollar store you can one.  If you want to be resourceful you can use a chopstick (painted black) as your cigarette holder. Just don't forget her signature cat eyes. Meow!
Tony Stark | Iron Man (1, 2, &3)
The man underneath the suit is pretty awesome. I mean he is a rich, philanthropist, playboy. Sure he has a drinking problem but he swears he's getting better. Last minute costume ideas kinda knock out the chance of making your own Iron Man suit – so we'll just save that for next year. Luckily you can pull an 'everyday Tony' look fairly quickly and easily.
Black Sabbath Stark: Tight long-sleeved t-shirt with a pop light strapped to it, Black Sabbath t-shirt, jeans, and a trendy goatee.
Snarky, Starky comments are always welcome! 
Marty McFly | Back to the Future (1 & 2)
Everybody loves this quirky little time traveler. He was like the first hipster, before it was cool, and loves layers… and plaid.
To achieve the McFly: You'll need a red t-shirt, a plaid button up long sleeve shirt, a jean jacket, a red puffy vest, jeans, and Air Jordans.
Bonus points if you make a hoverboard out of some cardboard and paint. Don't forget your Walkman, too!
Misc. Costume Ideas
Witty, cunning, and / or meme related. Just what Reddit ordered! Enjoy!
404 Error & Blue Screen of Death
Computer errors are a nerd's worst nightmare… social situations not withstanding. Why not have a little fun with these errors?
404 ERROR: For this look, you'll need a plain white t-shirt, jeans, and a sharpie marker. In the middle of the shirt write in big bold letters "404 Error" then underneath in slightly smaller letters write "Costume not found."
Blue Screen of Death costume: This is a similar approach, but a little more obscure. Instead of a white t-shirt, pick up a plain blue t-shirt and write in big frak-off letters "DEATH." Some of your friends might not get it, but that's okay – you can educate them. If you're feeling extra saucy – grab an old keyboard and carry it around, then right in the middle of a conversation bang on it incessantly in frustration.  Version #2: If you happen to find a blue zentai body suit between now and tomorrow you can just wear it for tomorrow and shout DEATH at random points during the day.
Play on Words & Witty
French Kiss: Wear black turtleneck, black pants, and a black beret. Paint your face like you are a rejected member of KISS and voila' you're done. Bonus points if you talk in a really horrible french accent the entire day.
Freudian Slip: Buy a plain white slip and then write on Freudian-associated words such as: Id, Ego, Super Ego, Oedipus Complex, etc…
Spice Rack: Drop by your nearest cheap department store and pick up a large brassiere and several containers of spices. Wear normal everyday clothing and wear the bra over top of everything… then fill the extra space with your spice containers. OH MY!!! That's hot! Especially if you have lots of chili powder in there.
Cereal Killer: Dress in everyday clothing but carry several boxes of cereal around with you (or strap them to your t-shirt), use some eyelash glue (or spirit gum) to glue pieces of cereal to your face and carry a big spoon. Go ahead and dip your spoon in some fake blood if you happen to have fake blood lying around your humble abode.
Hold me closer Tony Danza: If you have access to a printer and have a few sheets of iron-on transfers, grab a plain white t-shirt, and some pants. Find a picture of Tony Danza (like this one) and print it on to the transfer then iron it on to your sheet. Then above the picture write 'HOLD ME CLOSER" and see how many of your friends get it.
Moaning Lisa: Alter a orange-red tea length dress so that the bottom hem is all pointy, think Lisa Simpson. Then during random points in the evening start moaning for a good few minutes.  Bonus points if you can borrow a saxophone and wear it as a prop. Version #2: Wear normal clothes and give yourself a name tag that says Lisa. 
Little-to-no effort Costumes
Nudist on strike: Wear your normal clothing and grab a piece of cardboard and write "Nudist on Strike."
Serial Killer / Psychopath: Don't change anything about your wardrobe.  They look just like everyone else. How easy is that?!? No effort necessary.
I hope that this helps with your last-minute Halloween costume ideas. Also, thrift stores like Goodwill and The Salvation Army are your friend when on the hunt for last-minute/low-budget costumes. If you have any (and are willing to share) please let us know in the comments below. We'd LOVE to see what you're going as for Halloween this year. Feel free to share your image on our Facebook page or tweet us a link (@nerdsnnomsense).
And as with any special event, have fun and be safe.