Suave, daring, and absolutely delightful. The ladies love him… and well… the men love him too. Who are we talking about, a one, Captain Jack Harkness.
Oh yes… he is mighty fine, is he not. Nerdship, may I present 'teh man candy.' From saving Rose during the Blitz to fighting the good fight with Torchwood, Cap'n Jack is the modern-day space cowboy. (Or at least he is in my opinion)
… but I digress. We're here to talk cocktails and boy-o-boy do we have an awesome one for you this morning.
Take another good, hard look… I'll wait. It's a thing of beauty is it not? If you think it looks amazing, it tastes even better.
So yesterday afternoon we sent out a bat signal to the Nerdship for help coming up with inspired cocktails from Doctor Who – – and the Nerdship prevailed with flying colors! We got about 10 suggestions and over the next few weeks we'll be adding to our Doctor Who Libation Library (or DWLL, for short). As far as the rest of this week goes we have one to share each day through Sunday.
Today's libation is inspired by Jack with a little hint of his trust gadget, the Vortex Manipulator. It's basically his equivalent of the Doctor's Screwdriver… and we all know how that drink turned out don't we? (Wait, you don't know what I'm talking about… CLICK HERE!) He gets into (and out of) a lot of trouble with his trusty Manipulator.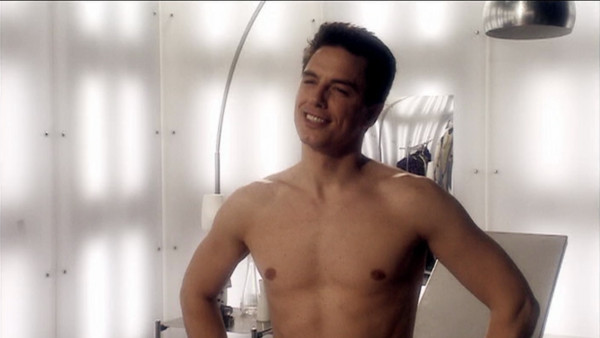 Right. Let's get concocting! Just give me a moment to clean up the drool… Right then. On we go. 
After serving this drink to a few friends here are a few responses:
"Devilishly delicious!"
"Subtly fruity and airy!"
"More please… now."
While this drink may seem super fruity in the ingredients list – it's an equal opportunity drink (like The Face of Boe, himself). The carbonation of the RedBull gives this a soda-like finish. The key point is… this drink is REALLY GOOD! 
Vortex Manipulator:
Makes 1 High Ball Cocktails.
Ingredients:
.5 oz Sour Apple Pucker
.5 Hypnotic
.5  oz. Midori
.5 oz Whipped Cream Vodka
1oz black vodka
4oz of Red Bull
Cherries
Ice
Directions:
Add ice to your shaker and pour in all of your alcohol.
Shake your cocktail shaker like your fighting against the Daleks for your very life. Think The Parting of Ways.
Add a few bits of ice to your high-ball glass and strain in the contents of your cocktail shaker.
Top off with the Red Bull and garnish with a few cherries. (I like leaving the cherries in till the drink is all gone… it's like boozy fruit. Literally. It's fruit that's been taking a booze bath. It's delicious)
Enjoy!
Let us know what you think about our little libation either in the comments below or showing us your recreation via photo on our Facebook or via Twitter / Instagram by using the hashtag #nerdsandnomsense or tagging us!
And as always, please drink responsibly, Time Agents. Not all of us can be revived by the Heart of the Tardis and then live forever.