Wilfred Mott is one heck of a guy. Selfless, sarcastic, and an overall quality gentleman. [He is also the ONLY reason why I can tolerate Donna Noble.] But honestly WHO is the man they call Wilf?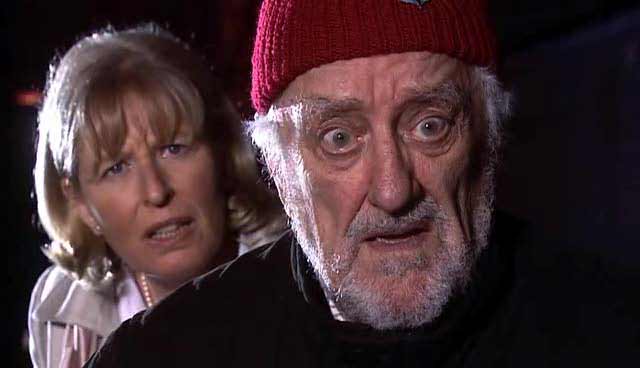 Wilf, or Wilfred Mott, is the maternal Grandfather of the Tenth Doctor's companion, Donna Noble. He is seen throughout Noble's time with the doctor in various interactions and asides. Unfortunately he travelled with the 10th doctor only one time, and sadly it was the 10th's last adventure – saving the world, yet again, from the Master.
He is courageous, kind, awesome… and one heck of a grandpa which is why we're inspired to create our next Doctor Who cocktail in honor of him.
Big shout out to Teri, Drink for the suggestion.
@nerdsnnomsense Wilf!

— Teri, Drink! (@teridrink) August 21, 2014
For this libation we are taking a twist on an old standard, The Godfather. Get it? Godfather. Grandfather.
The Grandfather is smooth, with slightly nutty notes and an orange / butterscotch backend. This drink is definitely a sipper if you aren't cutting it with anything. So sit back and enjoy while contemplating the universe. It is definitely a drink for any classy individual. Enough of my babbling, let's make one.
A Doctor Who cocktail inspired by Wilfred Mott
Makes: 1 cocktail in a rocks glass.
Ingredients:
.5 oz Amaretto
.5 oz Bailey's Original Irish Creme (Note: The Bailey's will curdle slightly when mixed with the other alcohols. It's perfectly safe and still really tasty.)
.5 oz Butterscotch Schnapps
1 oz of Bourbon
A dash of orange bitters
1 ice ball.
(Optional – you can cut this drink with Ginger Ale or Club Soda)
To make: 
Grab your cocktail shaker, fill it halfway with ice, and pour in all of the alcohol. Then shake it like you're trying to get out of an exploding Tardis.
Pour over top of ice (we recommend using an ice ball or whiskey stones) in a nice rocks glass.
Enjoy.
VOILA! You have a deliciously smooth Grandfather. 
And as always, please drink responsibly.
If you would like to see more Doctor Who-inspired cocktails be sure to follow and subscribe. Want to challenge us to come up with a specific cocktail for your favorite Doctor Who character? Just leave a comment below.
 If you make one of these we'd love to see a picture of it. Tag us with the hashtag #nerdsandnomsense on Twitter or Instagram or post it to our wall on Facebook.
Feel free to check out our previous Doctor Who cocktails below: